CNC Machining Services
Over 100 Years of Racing Innovation
Our 5 axis CNC machine is the latest addition to our manufacturing process, enhancing our already outstanding performance cooling solutions with a new range of custom machined features and taking our manufacturing to another level.
CNC Machining
Serck Motorsport have recently invested in the latest 5 axis CNC automated vertical machining centre from Matsuura. This new investment in the MX- 420 5 axis machining technology allows us to offer a highly efficient supply of complex heat exchanger designs and components directly from our manufacturing centre in Middlesex. Complementing our 5 axis machining capabilities we have further invested in a loader with 10 pallets that accompany its automation process for CNC machining & 24 hours of continuous production.
Services
This additional capacity in 5 axis machining allows us to offer even shorter lead times on highly complex prototype parts and volume component production where required for the racing industry supply. If you require cost effective 5 axis CNC machined cooling components with a rapid response service, we can help you. Serck Motorsport are suppliers to the racing industry world wide with over 100 years on innovation. We work closely with our customers involved in various racing sectors such as: Formula One, BTCC, NASCAR, Indy Car, Formula E, WRC, GT, Drag Racing, to name but a few.
We offer the finest detail in precision and accuracy ensuring all machining & finishing of cooling systems and parts are done to an incredibly high standard. If you require a comprehensive 5 axis machining service back-up with many other CNC machining operations, including assembly & finishing for your complete cooling package do get in touch below.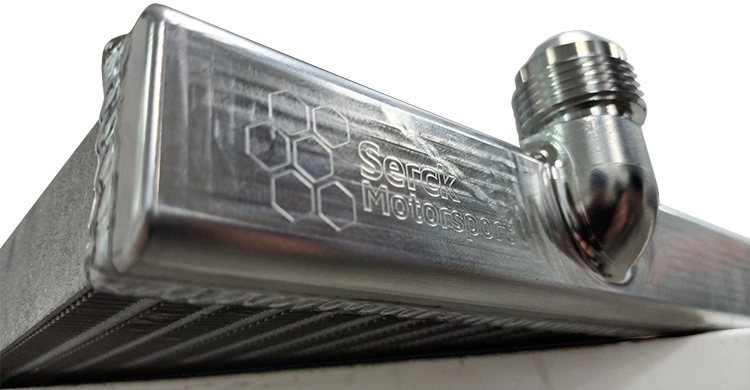 What Is CNC Machining
Computer Numerical Control (CNC) machining is a programmatic milling process that removes material from a billet block of aluminium (or other materials). As a performance cooling solutions Company, our team of engineers use our 5-axis CNC machine to manufacture variety of core components for further hand fabrication; typically end-tanks to weld to our performance radiators, oil coolers and intercoolers.
Contact Our Manufacturing Department